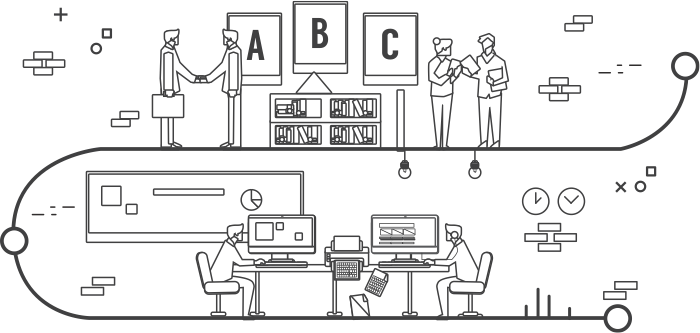 Flexible workspace:
drivers and the direction of travel
Things are obviously changing fast in the world of work. Business centres, serviced offices and similar flexible options have been around for years; but suddenly the coworking phenomenon is taking off. Sector expert Kurt Mroncz explains why.

First, it's important to understand the sorts of factors that are driving change from the point of view of providing places to work.

These factors have been driving change in the workplace for many years. They are behind the demand for coworking options – but they also drive the demand for all types of flexible workspace including serviced offices, managed space and flexible workplace memberships.

Those 'earlier' solutions are generally tailored for use when and where they are required by team members, rather than making individuals commute to one specific building just because the bricks and mortar exists and the company is committed to a long lease.
So what are the big driving factors behind all this change?
Cost management and future planning

The economic downturn exposed a number of vulnerabilities around corporate real estate. Suddenly, and in some cases literally overnight, large corporations were forced to make tough decisions and dramatically reduce headcount. Whilst this delivered the obvious overhead savings, many organisations remained committed to leases for buildings they no longer required. As those leases expired or came to break points, they had choices to make about what to do next. This presented a real challenge: over-commit on space and you are potentially left with the cost of surplus real estate; under-commit and you are unable to accommodate team members as the organisation once again experiences growth.

Around 2008, serviced offices and flexible workspace memberships utilising coworking space helped to solve this problem. These allowed organisations to upsize and downsize offices with greater flexibility - and the added advantage of being able to work wherever you wanted was starting to be recognised as a benefit for mobile and remote workers. However, in these earlier days, cost reduction and cost control were really the major drivers, rather than some pioneering, ground-breaking desire to prove that coworking and collaborative space was the future.

At that time, I worked with a large UK corporate with a national workforce of around 800 people. They worked from 20 offices across the UK. In a progressive move, the client shut all its offices and shifted to coworking on demand. The net benefit to them was a reduction in annual costs from £2.5m to £500k. Of course, there were additional benefits of working closer to customers and reduced commuting time. However, the over-riding driver was a reduction in costs – paralleled by a reduction in waste as their offices were typically only occupied 30% of the time.

Today, there remain significant cost-savings opportunities for many businesses by integrating flexible office space and coworking into corporate real estate strategy. However, there are additional reasons coming to the fore. This is in the context of lessons learned in the days of the recession: real estate strategies developed then tended to include an acceptance that there are additional benefits to workplace provision that can work, prove cost-effective and benefit the organisation and individual
Attracting and retaining talent
Much is made in the press about Millennials and Centennials and how they are different to previous generations, more challenging and with higher expectations. Much of this is true - and they have become another driver of change. However, I wouldn't stop with these generations: all generations now expect their workplace to support their roles and ambitions.

If you are trying to attract and retain the best talent in your industry, there's benefit in being seen to be progressive. Coworking is seen as progressive. A large segment of the workforce doesn't expect to have to travel to one building every day just to be supervised. They expect to be managed on results.

The concept of coworking combined with serviced office space also means that an organisation can base itself wherever the talent pool happens to exist. If the talent pool moves, then just move the workplace.
Cost savings
This remains a key driver, as highlighted above - but it is worth mentioning that increasingly the reduction in commuting costs that can be achieved by not travelling to the same centralised place of work every day can be significant.

In addition, there's the fact that it costs around £9k per annum to provide an employee with a permanent desk in the UK. The cost for full-time coworking is around £5k; and actually you don't need to commit to full-time.
Productivity
Case studies have proven that workers based closer to the place where they actually need to be can deliver productivity gains of 15-20%. This is achieved by, for example, the plain fact of simply working closer to clients, suppliers or home. The increase in productivity is secured through higher energy levels, greater commitment and increased work activity during the day, rather than travelling.
Environment
Virtually all organisations now recognise a responsibility towards the environment. Occupying less space produces less environmental impact in terms of the utilities required to run buildings, in addition to the concentration of waste produced. In many cases, organisations are wasting resources as the buildings are only 50%-60% occupied. This, combined with the potential reduction in omissions through reduced commuting, means working in more flexible space can have a very positive effect on the environment.
Networking and collaboration
Many of our corporate clients now ask us to source coworking memberships or private office space in a coworking centre because they want to be part of the community in that location. This is often about promoting their services to the network, whether that be recruitment, software or hardware. A coworking community can be a great source of potential business.

We also now find many large corporate organisations supporting, sponsoring and helping to fund incubator hubs in coworking centres for start-ups and entrepreneurs.
A flexible friend
So, of all the change drivers highlighted above can we single one out as the most important? Probably not – but there is a central theme and that is flexibility, on a number of levels. Why commit to a long-term office in a fixed location when you don't know what the future holds for you? Utilising coworking through flexible workspace memberships means you are free to work anywhere you want to, with that added flexibility to change the membership as your circumstances change.

In terms of larger corporate organisations, coworking is working its way into many central real estate strategies. But the main push is coming from leaders of local business operations, wanting their team members to be proactive on the move, work nearer to customers and work within a vibrant networking community.

One factor that is, perhaps surprisingly, not a driver of change in this context – but more an enabler – is technology. With the development of the cloud and enhanced security over the last ten years there is no reason not to work away from the office. Technology used to be the excuse not to work differently; now, as we all know, you can pretty much be anywhere in the world and still be connected.
The market response
Faced with all this change on the demand side, we have seen the supply side beginning to move quickly to respond to new needs and opportunities.

The market is changing dramatically, shifting away from the traditional typical serviced office. We saw Regus lead the way with the introduction of coworking memberships and the launch of business lounges in the majority of their global centres. Other serviced office providers soon started to do the same.

But let's put this in perspective: most serviced office providers allocate 7%-10% of their space to coworking, which is no great sacrifice as they typically run 80%-90% occupied. In reality, it has always been hard to make the coworking space profitable. But as the demand has increased and the concept become more accepted, prices have increased and now this is profitable for operators, thus achieving an increased choice for clients.

Now we are seeing many dedicated coworking spaces coming into the market. No private offices, just coworking space and memberships. These have quickly become the norm in major cities such as London, New York and Sydney and are now being seen in regional cities and towns, too.

Probably the biggest change in the market has been the development of WeWork. This organisation has to be the most exciting development in the flexible workspace market since its inception in the 1980s.

WeWork still only has around 140 centres, but there is an ambitious growth plan. They have brought a unique concept and community to the market, and there is no doubt that the WeWork concept is admired and appreciated by many. In fact, it has made the other providers step up a gear in terms of coworking space and fit-out. The WeWork environment is high-energy in very large spaces - contemporary fit- out for a community of like-minded and high-energy members, driving business and networking across organisations. Whilst they also rent office space, coworking is where they have made their name.

Of course this type of environment is great for some companies, but others prefer to work in a quieter setting. I have had some organisations tell me that they have enjoyed their 'high-energy times' but now need a more focused, private space. So coworking isn't everything for everybody.

In my opinion, what we are seeing here is the next step in an evolution. There has been a lot of publicity about WeWork and coworking in general, but at the end of the day they are a serviced office provider and coworking is one way to work. It is definitely here to stay, though, fostered by the evolution of technology that supports all forms of flexible working.
What next
So, where do things go from here?

First, I believe that corporates will continue to reduce space and utilise serviced offices to satisfy demand for workspace. This will increasingly become a part of corporate real estate strategies. We are already working with organisations to evaluate how their conventional leased premises can be reduced in sized or moved completely to a flexible solution. Coworking is definitely part of this strategy.

I expect to see more and more corporates create their own coworking spaces, realising the benefits within their own portfolios. We will also see the larger serviced office operators running these spaces for the client organisation.

As a variation, we will see corporate organisations developing their own coworking centres specifically for start-ups and SMEs. These may be run under management contracts by serviced office providers. But the 'landlords' will have an eye on a range of benefits – banks and providers of consumer software, hardware, mobile telecoms and similar services are all focused on building relationships with existing and potential consumers. What better way to achieve that than by pulling them into your coworking hub?
The impact on FM
Does all this create opportunities for the FM industry? That is a great question, and I believe the answer is yes, this change provides an opportunity for FM organisations to add value to their client relationships. The opportunity is in two areas:
First, FM companies have the opportunity to build strategies for the utilisation of surplus space within their client portfolios. You may think this is the role of corporate real estate companies. However, their main interest is acquisition and disposal. If a client has, say, 10,000 sq ft surplus space available and is not sure if this is needed, there is a real opportunity for it to be turned into coworking space. We all need to create innovative ideas for our clients; this one certainly could be beneficial and ultimately the FM organisations can run the space.

Offices iQ is continually looking for additional space for serviced office operators to build their portfolio. Should the concept of an internal coworking space not be realistic, partnership programmes with external operators is another angle for clients to benefit. We regularly make these introductions

The second area of opportunity is facilitating the wider space utilisation discussion. Of course, the corporate real estate companies are involved in these conversations. However, we work with FM companies to help achieve space efficiencies. For example, we have placed team members in external managed space, serviced offices and utilised coworking to free up additional internal space. This has facilitated more effective use of space internally or helped during refurbishment. The FM provider is absolutely linked between effective use of internal and external space.
So there is a wealth of opportunity within our industry for clients and suppliers. One thing is for certain - flexible workspace, and coworking specifically, is growing and here to stay.